We all seek to find the best paths to an abundance of happiness. It is something the talented Shannon Kaiser brilliantly manages to show us in her bestselling books.
She manages to show in a unique way several simple practices that change our routine, our attitudes, the whole scenario of our life with her way of thinking and with actions capable of positively transforming our lives.
A woman renowned all over the world
Shannon Kaiser is a woman who is always on top of success. This woman is Among the five best-selling books on happiness: Self-Love Experiment, Adventures for Your Soul, and Joy Seeker.
She is renowned as an author, international life coach, teacher, inspirational speaker, and writer, is among the 100 Most Watched Women in Wellness by Mind Body Green.
Self-Love Experiment is a book capable of transforming lives. You learn to manage your time with intelligence, wisdom to abandon what makes you feel bad, force yourself to conquer your dreams, and not depend on other people's approval and other diverse teachings that are good for your life.
Joy Seeker amazingly showcases content that helps people find peace, happiness, and fulfillment in their lives. Hence, the author's main focus, says Gabrielle Bernstein, bestselling author for the New York Times.
Adventures for Your Soul makes you feel the happiness in the soul in a natural way with life. Your fears and guilt for innermost desires begin to diminish., so you can feel free to live with purpose and passion.
Shannon's perspective is brilliant. It will bring more light to you and make you feel the happiness you never felt before.
Founder of Play With the World
Shannon Kaiser is renowned by several prestigious international media outlets such as ELLE magazine, Vogue, Health, Entrepreneur, ABC Studios, Spirituality and Health, and many other successful media.
The writer also owns a successful platform known as Playwiththeworld.com. Her success is considered one of the top 75 personal development sites and the top 100 self-help sites.
On her website, here are several tools that will help you to have more hope. You'll be able to end the blocks you have in your life. The content so that you can find satisfaction. You can download content to read in PDF and audio made with all the love to control stress and anxiety.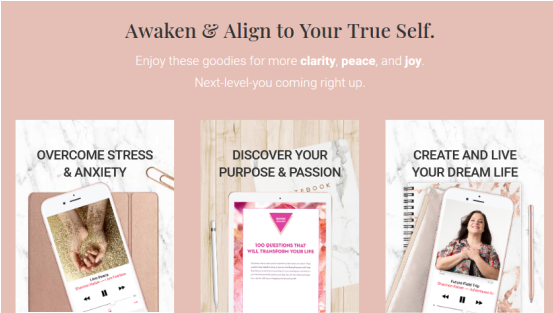 In it, you will find incredible experiences of her travels around the world, gaining knowledge through reflections, insights through articles, online courses, videos, meditations, international coaching (personal and group), lectures, retreats, and best- sellers.
Quality content and organized in different ways so that it is easy to find and establish a connection with the achievement of goals in a lasting way.
By venturing into the content, you will feel more motivated to believe and confirm in yourself. Experience in an unprecedented way being your own best friend. You will be able to pursue the path to happiness more lightly and satisfyingly.